Have tot, will travel
Long drives to Cornwall. Cooped up in the car with an impatient toddler. Traffic, crowded service stations, car full to the brim. Not sounding like a relaxing holiday at the moment is it?
But being avid 'staycationers' and parents to several toddlers ourselves, the team at the Cornish Concierge think that Cornwall is the perfect short break destination for parents with young children. No airports, no check-in queues, no time differences or language barriers to overcome. And whilst the drive may be lengthy, the rewards are infinite – wild beaches, beautiful villages, stunning scenery and some top-notch accommodation just perfect for families.
Today, our recent guest Sophie (who spent a week on the Lizard in January with her husband Joe and their son Max, aged 14 months) gives us her top tips for travelling to Cornwall with a toddler and why they had such a fantastic time here, in spite of the wild January weather…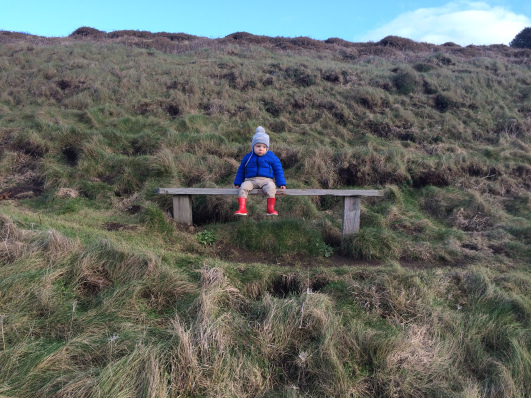 Why Cornwall?
I used to go with family as a child and knew it was beautiful. We wanted somewhere coastal and we found a hotel that looked amazing for small children. It's also drivable in a day which was important when travelling with a toddler!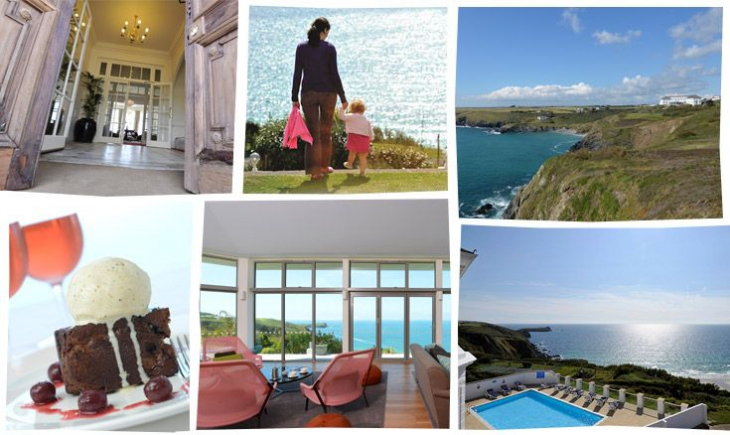 How did you prep for the journey?
A fully stocked iPad for the car! Back up food (the hotel was quite remote so being stranded without pouches was a scary thought!) Wellies for paddling. Our carrier – way more practical than a buggy for cliff top walks.  Some familiar toys and books to aide the bed time routine. 
The Drive
The drive was way better than we feared! We planned the route so that we stopped for lunch half way on our way down. We detoured into Yeovil, had a walk around so we could all stretch our legs and had some food. We stopped for about 90 minutes in total and then Max's post lunch nap took us all the way down to the Cornwall Services, which were awesome! It has a massive soft play adventure area where Max could burn off lots of energy. Lots of food choices, all very clean. For the final hour (ish) he watched Mr Tumble!

On the return journey we had a slow trip up onto the A30 so stopped again for an early lunch (and play) at the Cornish Services and then powered on through from there all the way home. Again, the iPad and lots of snacks saved the day.
What makes Cornwall so special?
It's just beyond beautiful. There is so much to look at even in gloomy weather, and so many gorgeous little nooks to explore, even with a toddler. Finding walks was easy, but we also saw some lovely sights from the car.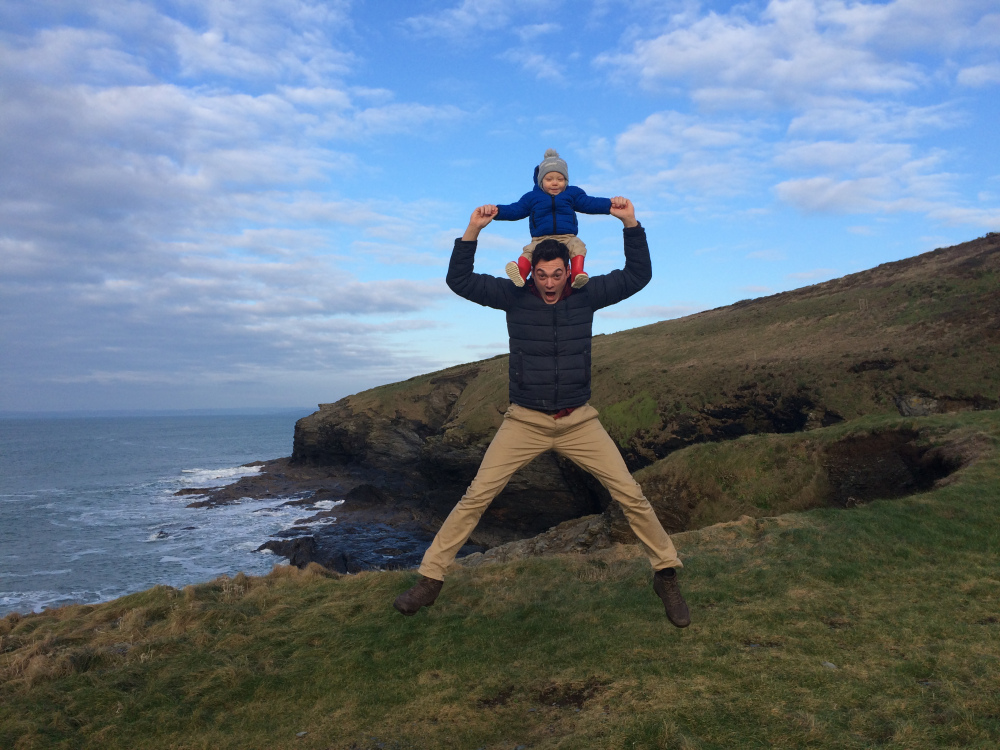 We loved our hotel and the way it catered for Max so well. A highlight was the cream tea and amazing hot chocolate in a lovely cafe right on the tip of the Lizard Peninsula – delish. We are definitely planning to go back. It was lovely going in January because everywhere was so quiet and we typically had beaches to ourselves, but also keen to return when the sun is shining!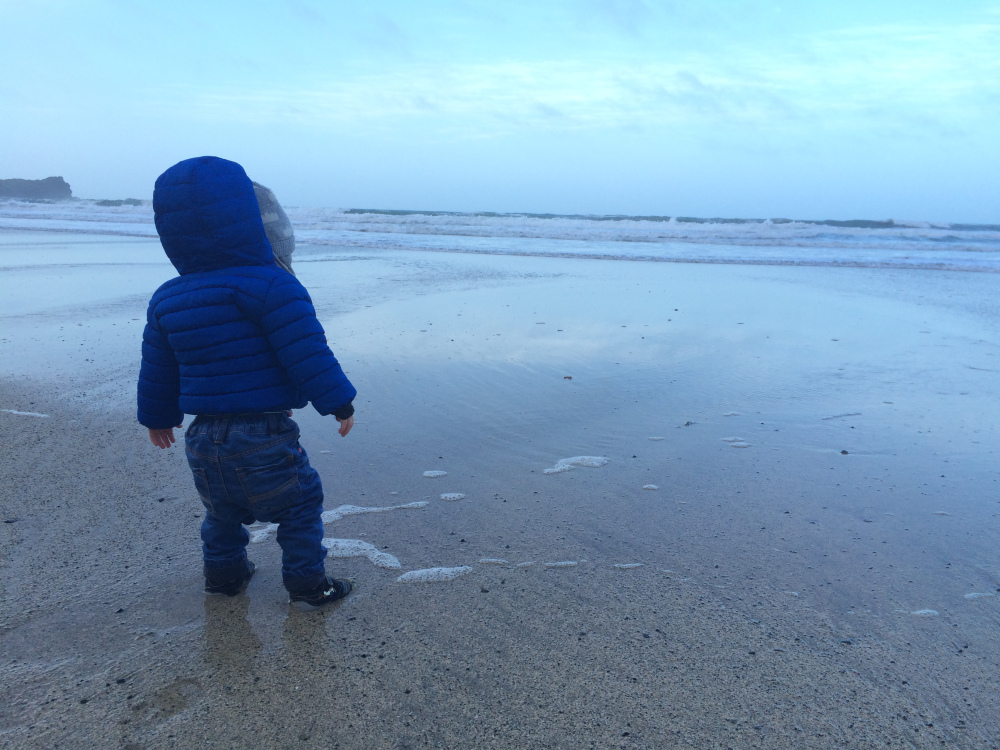 [Sophie, Joe and Max stayed at the Polurrian Bay Hotel on the Lizard Peninsula]
Our top tips for long drives with little ones:
Given the amount of 'stuff' that you'll need to wedge into the car, invest in a lightweight, foldable stroller. Maclaren are a perennial favourite, but we opted for a Babyzen Yoyo which we absolutely love. It weighs next to nothing (a mere 6 kg) and folds to a minute 52 cm x 18 cm x 44 cm – meaning that it's also accepted as cabin baggage with most airlines. Niftily folded down, it easily slides under the front seat, leaving you valuable room for toys, toys and more toys.
The strollers are great for navigating the winding streets of a Cornish fishing village or nipping to the shops, but for walks, hikes and beach adventures, we found a carrier to be a much better option. When our little one was tiny, we loved our Ergobaby – keeping her close and snug, whilst being supremely comfortable on the shoulders and ergonomically designed for her growing body. Now she's bigger and wants a better view, we've invested in the Littlelife Cross Country S3, which has some great features including a sun shade, 5-point safety harness and rear view mirror!
I find that buying a few cheap toys for the journey an absolute god send. Whipping them out at the opportune moment (when the boredom threshold has been well and truly reached) will buy you at least half an hour of extra peace and quiet. Sainsbury's often have great toys on sale, and a little wooden puzzle or the fantastic Travel Aquadoodle are our favourites for long drives.
Although it will add time to your drive, make sure you take plenty of stops to give them the opportunity to run, walk or crawl about and burn off some energy. You can stock up on caffeine and they can explore – the more they tire themselves out, the more likely they are to nap in the car (in theory) and buy you a little more peace and quiet…
Pack plenty of healthy snacks. Ella's Kitchen pouches have been a go-to for snacks on the go, and are full of goodness too. Whilst it isn't recommend that babies eat in their car seats (just in case they choke), stopping from time to time to re-fuel and nourish will mean full tummies and happy bubs. If you are still breastfeeding, take a pillow in the car (we love our Widgey Doughnut Nursing Pillow) – it keeps you comfy whilst you're driving and means that stopping to feed becomes much easier en-route.
Whilst screen time gets negative press and we really don't let our daughter watch too much TV or play with technology, long drives are certainly the exception. Pre-loading the iPad with a few choice apps will provide some entertainment and stimulation when the goings gets dull. You can buy all sorts of contraptions to hang them from the headrest of the front or back seat, but we tend to tie a ribbon under the case and loop it round – a super easy and a cheap solution!
Invest in a roof box. Stashing all your bulky bags and baby gear on the roof leaves the car clutter-free and spacious, lest you need to jump in the back and provide emergency entertainment! Our Thule Roof Box is perfect for family trips on the road.
To find out more about our fantastic ideas for visiting Cornwall with your little ones, get in touch at hello@thecornishconcierge.co.uk or fill in our online enquiry form here and one of the team will be in touch.