There is something so inherently relaxing about Cornwall. Once you pass the Devon-Cornwall border, people seem to take an audible sigh of relief and let the Cornish landscapes and rolling surf wash away their worries. Its time to switch off and enjoy the slower pace of life down here, escaping the daily grind and exploring all the treasures that our little corner of the UK has to offer.
Cornwall is awash with stunning self-catering properties, from converted stone barns to sprawling, cliff-top estates. But no matter how luxurious and well-equipped the kitchen, the fact still remains that someone has to shop, someone has to cook, and someone has to wash up.
Here at The Cornish Concierge, we don't think that the luxury of total relaxation should be limited to holidays abroad or stays in a hotel. We can arrange for one of our carefully selected private chefs to come to your property and create a completely bespoke dining experience, from hearty family fare to an 8-course tasting menu. Our chefs will bring waitresses, or even a sommelier if you so wish, and together will prepare, serve and wash up afterwards, allowing you to all relax into holiday mode. And whilst this may seem indulgent, remember that there will be no fights over the role of designated driver and no need for a babysitter.
This luxury of this 'at home dining' experience is further reinforced by the individual pedigrees of each of the chefs we work with. With a variety of different backgrounds and specialities, we can recommend the perfect chef to suit your exact requirements. Each of them will tailor your menu around any personal preferences (read – fussy eaters) and allergies, and can turn their hands to a romantic dinner for 2 or a celebratory event for 20.
Our private chefs can be hired for a one-off experience or we can arrange for them to cook for you for the duration of your time here in Cornwall, providing delicious breakfasts, gourmet picnic hampers and sumptuous evening meals. The one thing all our chefs have in common is their talent, love for cooking and ability to create mouth-wateringly delicious food.
Today we'd like to introduce you to one of the fantastic chefs we work with, Fiona Were.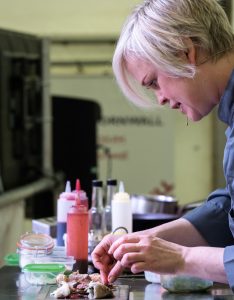 Heralding from New Zealand, Fiona now resides full time in Cornwall. She has held the prestigious titles of Executive and Head Chef at a number of the Cornwall's top hotels, including the Training and Development Chef at Jamie Oliver's Fifteen Cornwall, in its inaugural year. Fiona has also been labelled by The Independent as one of the top 10 female chefs in the UK, so we feel very fortunate to be able to offer her culinary services to our guests.
When she's not busy cooking up a storm in the kitchen, you can find Fiona tending to her rare breed chickens, making her own cider and wine from her home-grown fruits or foraging amidst the beautiful Cornish countryside. And to give you a little taste of her cuisine, Fiona has written us a recipe for a delicious dessert for you to recreate at home, using the finest Cornish rhubarb.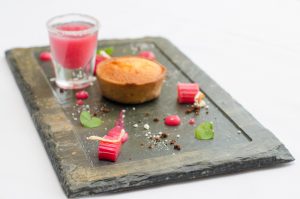 Rhubarb Bakewell Tart
By Fiona Were
You will need:
1 flan tin 30cm* diameter approx, preferably with a removable base, buttered and floured
Preheat oven to 180 degrees Celsius
Pastry
125g unsalted butter, cubed
250g plain flour
50g caster sugar
A pinch of sea salt
Cold water to mix
For the frangipane
3 free range eggs
200g soft unsalted butter
200g ground almonds
150g caster sugar
1 tbsp Brandy
300g forced rhubarb, sliced and cooked until soft with 100g caster sugar
Method
First make the pastry. Blend the butter, sugar, sea salt and flour in a food processor until the mix resembles fine crumbs.
Using the pulse button, carefully add enough cold water to until the pastry just starts to hold together. Remove from the bowl of the processor and press together to form a smooth dough. Set aside while you prepare the remaining ingredients.
Clean out the food processor bowl and place in all the ingredients for the frangipane.
Process on continuous until light and fluffy.
Roll out pastry to fit the flan tin, and make sure it over hangs generously. This will then get trimmed off once the tart is cooked. Press the pastry in well to the tin.
Spread the rhubarb 'jam' on top of the pastry.
Then either pipe or carefully dollop the frangipane over the top. Spread to cover the rhubarb.
At this point you can scatter over some flaked almonds should you wish.
Place onto a baking tray and into the oven and bake for 20 minutes, then check it. If the tart is colouring up too much drop the temperature to 160 degrees and continue cooking until the  pastry is golden and the frangipane is nicely coloured and cooked, which will probably be about 45 minutes in total, depending on your oven.
Remove from the oven when it is ready and set aside for 15 minutes.
Carefully trim the pastry so it is flush with the edge of the flan tin.
Unmould from the flan tin once cool and serve simply with clotted cream or really make the most of the rhubarb season and treat yourself to some different rhubarb components such as candied rhubarb and a rhubarb margarita.
*If you're feeling adventurous, you can make individual rhubarb bakewells using a muffin tray. These should only take about 20 minutes to cook.
If you'd like to include a private chef as part of your next Cornish holiday, fill in the enquiry form on our website and one of our team will be in touch. Alternatively, email us at hello@thecornishconcierge.co.uk